Battle For The Crown Tickets 02/11/23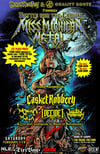 Michigan Metal Fest has teamed up with our homies at Quality Roots and The Music Factory to BRING BACK one of the state's most anticipated events and spokeswomen!!!!
<<>>
SATURDAY, FEBRUARY 11, 2023 AT 6 PM
THE MUSIC FACTORY
This year, we are VERY EXCITED to bring some of the BEST up and coming live musical and visual talent to the event to showcase strength, unity, community, and growth. We have carried each other and built entire festivals together, boosted bands to the top of their ranks, created positions of power for women to enjoy and flourish from, brought BIG BANDS to small towns, and never batted an eye at it. WE DID ALL OF THIS TOGETHER!!!!
Grand Prize:
-$300 CASH (Provided by MISERY LANE)
-$250 Tattoo (Provided by WAYWARD TATTOO)
-PHOTOSHOOT (Provided by PIXEL PAIGE PHOTOGRAPHY)
-CUSTOM MADE SASH AND CROWN
-TITLE of *MISS MICHIGAN METAL* for 1 year
-FREE ENTRANCE to certain shows and events
Second Prize:
-$200
Third Prize:
-$100
Bands:
CASKET ROBBERY
MANTRA OF MORTA
I DECIDE I
**BODY SUSPENSION by HOUSE OF RAZORBLADES**
Sponsors:
QUALITY ROOTS
DIRTBAG CLOTHING
WAYWARD TATTOO
ARDENT ENTERTAINMENT
NEXT LEVEL ENTERTAINMENT
*All ages show
*Under 18 w/ adult
*$15 Pre-sale Tickets on sale Nov. 30 @ 10am
*$18 at the door
*191 Angell St Battle Creek, Mi. 49037