Classic MMF Trucker Hat!!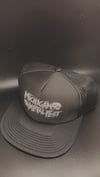 Their Back by popular demand! Our classic black Michigan Metal Fest Trucker hat with our classic logo! These guys never stay around long so get yours before they are gone!
****Shipping Department is closed 08/11/23-08/30/23
expect delays in shipment of merchandise during our festival, and restocking period!